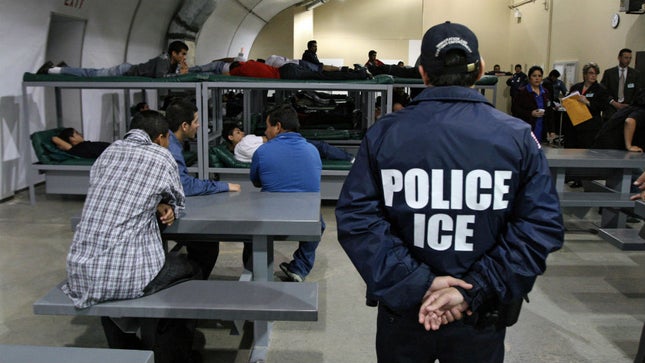 Vivi Kaufman
Immigration Customs and Enforcement (ICE) is a government agency that makes up one branch of the United States' immigration system. "Abolish ICE" has recently been coined by democratic congresswoman like Alexandra-Ocasio Cortez and Pramila Jayapal, as well as other prominent lawmakers after the Trump administration announced its family separation policy, called the Zero Tolerance Policy. Trump's policy, according to a Human Rights Watch Report, systematically persecuted parents traveling with children, leading to an unprecedented separation of thousands of families at the border. These separations happened under the umbrella authority of the Department of Homeland Security (DHS), and the majority of families were detained in ICE and Customs and Border Protection (CBP) detention facilities.
Abolish ICE has become a political movement that aims to highlight the injustice within ICE and to get rid of the agency all together.

ICE is a relatively new system that stemmed from the "panic culture" after 9/11. Before 9/11, immigration was handled by the Immigration and Naturalization Service but after the attacks, it was split up into ICE, CBP, and Citizenship and Immigration Services. All of these agencies fall under the umbrella of the Department of Homeland Security.
According to Sean McElwee, a writer for The Nation, ICE being put under the jurisdiction of the (DHS) has "framed immigration as a national security issue rather than an issue of community development, diversity or human rights." ICE has been seen as an enforcer of national security since 2003, but with recent increases in immigrant deportations starting during the Obama administration and continuing through the Trump administration, it has come under scrutiny. Over the past 3 years, the number of detained immigrants, many of whom are kept in terrible conditions, has spiked.

Immigration detention is the practice of incarcerating immigrants while they await the determination of their immigration status or potential deportation. The reasons for the growing rates of detention are twofold: a drastic expansion of mandatory detention regulations, and a "skyrocketing" detention budget. The combination of these factors has led to a system of mass detention. The average daily population of detained immigrants increased from approximately 5,000 in 1994 to 19,000 in 2001, to over 39,000 in 2017. ICE has instilled fear within many immigrants in the U.S. because President Trump's administration has emphasized detention for all immigrants, even those without criminal records. According to a report by Penn State, most of the ICE detainees are people who overstayed their visas or whose asylum claims failed, and about 70% of detainees have no criminal record. This data has changed since Obama-era policies that put detention efforts towards people with criminal records have been rolled back. These recent policies have the support of the leadership ofICE.

ICE's former head, Thomas Homan, often made claims that instilled fear in the immigrant community. Sean McElwee, a prominent journalist and supporter of the "Abolish ICE" movement, made clear that Homan instilled a mindset within his agents that any undocumented immigrant is a threat. He has repeatedly said that immigrants "should be afraid" of his agents. "You should look over your shoulder, and you need to be worried," he boasted in his congressional testimony last year. Homan has threatened to jail and prosecute local officials in so-called "sanctuary cities" that do not fully comply with ICE mandates, saying that "this isn't the America I grew up in." The ACLU said Homan's "outrageous threats" should disqualify him from leadership of the agency that enforces immigration law. According to the Southern Poverty Law Center, sanctuary cities are not required by law to enforce any of ICE's policies, and according to 8 U.S. Code § 1373, they are only required to be transparent about their inhabitants' legal status. Homan's claims are empty threats that go against states' rights, as well as the power of local officials and police departments.

ICE also has not fully complied with federal laws. The agency has been seen targeting prominent immigrant rights activists. In an appeal from last year, Ravi Ragbir, the executive director of the New Sanctuary Coalition, filed a claim that ICE's behavior was unconstitutional, and infringed his First Amendment rights. Mr. Ragbir's claim lead to the suit Ragbir v. Homan in the federal district court of the Southern District of New York to challenge the recent targeting of immigrant rights activists by federal immigration officials. According to the National Immigration Project Mr. Ragbir was abruptly detained by Immigration and Customs Enforcement on January 11, 2018 at a routine check-in, and remained in immigration detention until a federal court ordered his release on January 29, 2018. The court concluded that his detention was "unnecessarily cruel" and unconstitutional, and expressed "grave concern" about the possible First Amendment implications of the targeting of an immigrant rights activist.
ICE has also detained individuals for speaking to the media about ICE. Baltazar Gutierrez, an immigrant from Washington, claimed that an ICE official said to him: "You are the one from the newspaper. My supervisor asked me to come find you because of what appeared in the newspaper." ICE officials specifically targeted him because of his comments in the newspaper about his girlfriend's interactions with the agency. Gutierrez said that Gladys Diaz was arrested after ICE agents responded to her Craigslist ad for a piñata she had made, telling her to meet in a parking lot, where they arrested her for being in the country illegally. There are many reported cases of ICE overstepping their bounds and targeting specific immigrants. ICE is not transparent about their targeting process, nor are they transparent about what happens afterwards.

Some teen immigrants are being detained in secret holding cells. One human rights researcher tried to do further research, but was blocked by ICE officials. Angelina Godoy could not find any information on the teen detention centers, so she filed a series of public record requests for information from the detention facilities on what ICE was doing. The facilities were about to share the detainee files with her when ICE reportedly blocked the information from her, and took the case to court just to keep the information a secret. Godoy said in a statement: "I may not object to the fact that they are being held, but I object to the fact that nobody can even know who they are [and] why." According to Godoy, the places these youths are held do not appear on ICE's online map of detention centers. The agency does not make its reports about the conditions of the facilities available like it does for others. Family members can't find their loved ones using the federal government's official detainee locator since it only provides information on adults. "ICE juvenile jails are secret and unaccountable," said Heidi Altman, director of policy at the National Immigrant Justice Center. "And ICE wants it to stay that way." ICE's deceitful behavior is causing alarm within various communities, and even some ICE agents.

Former ICE agents are criticizing how their priorities have been shifted due to Trump and Homan's goals to target all undocumented immigrants. Alonzo Peña spoke on a group of ICE agents' behalf, saying in a report that agents worry that ICE is "just becoming a political pawn for this administration," and that it isn't "contributing to the welfare and safety of the country." He also spoke on behalf of a subgroup of ICE, Homeland Security Investigations (HSI) which is mainly in charge of immigration investigation. HSI has changed in the past few years, Peña said, HSI is "supposed to be out there making these major cases, these big cartels that are smuggling guns, drugs, money…and because of this whole immigration rhetoric — that immigrants are bad, that they're criminals and rapists and all that — the focus is totally off mission." ICE's priority on immigrants has had a negative impact on not just the immigrants that it targets, but on the safety and well-being of the country. The more time, money, and energy being spent on immigrant detention and deportation, the less resources go to fighting dangers such as drug cartels and violent smugglers who pose a real threat to everyone's safety.
The call to abolish ICE gained traction as the morality of ICE's behavior became a topic of discussion. Freshman Democratic congresswomen like Illhan Omar and Alexandria Ocasio Cortez are some of the more outspoken supporters. Congresswoman Omar commented on the transformation of ICE in an interview:
"ICE's mission was created in 2002 — they've only been around for 15 years…In that time, they have grown to be an agency whose mission is to tear families apart and put fear into immigrant, refugee and undocumented communities. ICE has only become increasingly militarized, brutal and unaccountable." For her, the call to abolish ICE is a demand to create an immigration policy "based in compassion."
Congresswoman Cortez arguably won her seat in the House due to her unwavering stance against ICE. In an interview with CNN, she spoke about ICE and a possible alternative. Because of ICE's "extrajudicial" nature, they have gotten away with "countless human rights abuses". Congresswoman Cortez believes that the United States "can replace [ICE] with a humane agency that is directed towards safe passage instead of criminalization." The movement to abolish ICE focuses on the inhumanity and unregulated nature of the organization and is also a pressing issue in the 2020 presidential debates.
No democratic candidates currently support the complete abolition of ICE, but the majority of the candidates support restructuring and redistributing their duties. Candidates like Elizabeth Warren, Kamala Harris, and Corey Booker proposed alternative solutions to reform ICE. Kamala Harris' DONE Act aims to have a 50% cut in detentions within a year, instead refocusing detention efforts towards community-based alternatives. The bill would also freeze the expansion of ICE detention centers, and would require more transparent reporting on detention center conditions. According to a summary by The Hill, the bill is projected to have bipartisan support. Cory Booker's plan calls for changes throughout the whole system. His proposal includes higher standards for detention facilities, making detention a "last resort," expand legal counsel for immigrants, and grant due process to the detention system. Many other candidates have proposed bills to reform ICE that increase dignity for immigrants and cut back the role of detention centers in immigration policy.
One misunderstanding about the movement is that it is synonymous with no border security and safety, when it really means the opposite. ICE has become an agency that is responsible for harming the lives of thousands of immigrants, including verbal and physical abuse. 70% of their detention centers house non-violent immigrants. The focus on non-violent immigrants takes away funds from violent criminal targeting efforts that HSI and ICE were created for. Abolishing ICE would lead to humane immigration policies that would free up funds to keep America safe from real threats at the U.S. border.
Immigration reform is a bipartisan cause. ICE's abuse did not miraculously start as soon as Trump came into office. Harmful immigration policies from both Republicans and Democrats stemming from the 1990s allowed ICE to become what it is today. By recognizing ICE as a rogue agency not functioning as intended, the United States can begin to form strategies that will reinstill safety and integrity to our nation for all.