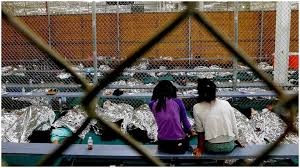 Maeve Healy

With the concurrent rise of social media and activism, the conditions in the over 200 immigrant detention centers in the United States are constantly being reported on, tweeted about, and shown all over social media. Though the first immigrant detention center in the United States was established in 1892, the media has just begun to shed light on the reality of life in the detention centers, due in part to the increased use of social media to spread awareness. This increased awareness comes at a time of necessity, as conditions are deteriorating. A growing number of these detention centers are being run privately (roughly 60% as of now), essentially meaning they are being run for a profit. Because these centers are being run for a profit, companies prioritize cost-saving measures over adequate care for the detainees with the two leading private contractors, CoreCivic (CCA) and the GEO group, making over $100 million dollars annually. 
Inadequate care and facilities are commonly seen in U.S. Immigration Customs and Enforcement (ICE) detention centers, one example being the facility in Clint, Texas. CNN reporters were able to explore the Clint facility and found overwhelming amounts of evidence pointing to the verdict that ICE facilities are borderline inhumane. One eight-year-old boy said he had not showered or changed clothes since arriving at Clint, and a seventeen-year-old mother said she and her baby were forced to sleep on the ground while she was pregnant. According to another report from the Clint facility, cells hold up to double their capacity. Further, these problems are not concentrated to the Clint facility, as at other facilities, detainees report seeing officers hit other detainees in the stomach as well as officers calling them obscene slurs. Though ICE refuses to acknowledge any of these events, all the evidence points to the detention centers being inhumane and disgusting.
Despite being subjected to horrific conditions while in detention, detainees do have rights, one of such being the right to claim asylum. Asylum, as defined by ICE, is "protection in the United States if you fear you will be harmed if you return to your own country or if you have suffered harm there in the past." If it is determined that the threat or harm the asylum-seeker wants to be protected from is avoidable, the detainee will face deportation to his or her country of origin. While President Trump has been in office, the denial rates of asylum have risen significantly, and currently, about two-thirds of asylum cases are being denied. Though asylum in the United States is not necessarily a guaranteed right, it began after World War II as a way to protect people from threats they cannot control. Unfortunately with denial rates climbing, it shows just how much the United States has begun to now consider it a "privilege" to live without fear. As a result of the rising denial of asylum, more people have been forced to their home countries to uncertain – and possibly brutal – fates. 
Detainees also have the right to request withholding of removal, which is a protection the United States offers that is similar to asylum. It requires proof that it is more likely than not the immigrant will be persecuted upon arrival to his or her home country, and these cases are typically much more difficult to win than asylum requests. People who have been convicted of aggravated felonies or did not apply for asylum a year after entering the United States are more likely to apply for this protection. There is not much information on the statistics of this protection, though it is known that this protection is granted less than asylum. Detainees also have the right to access a lawyer, but 52% of detainees are held in rural areas where getting a lawyer is a challenge. Without adequate legal representation, detainees face impossible challenges and obstacles.
Detention centers are inhumane and should be abolished. The current situation is terrible, and change to the system of detaining and deportation of immigrants is necessary. Unfortunately, this reality will continue unless Immigration and Customs Enforcement fixes their mistakes that are ruining the lives of women, men, and children throughout the country.