Ava Rosenow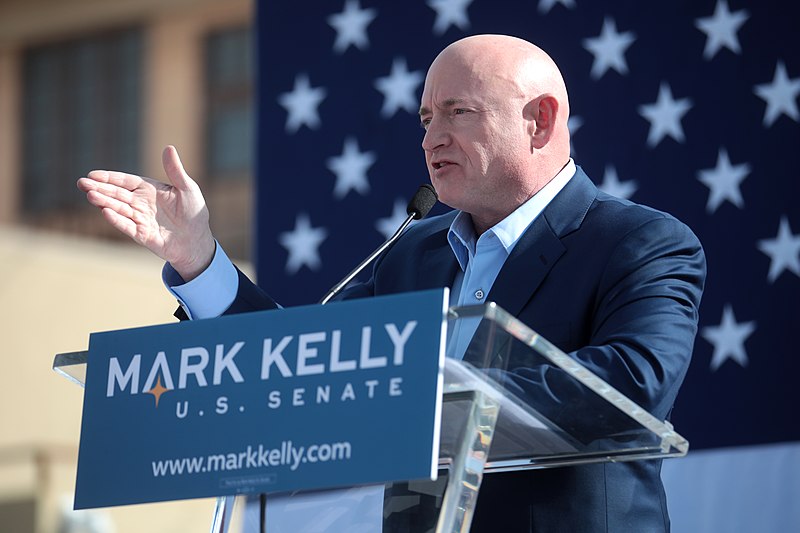 After a close and controversial Presidential election in 2020, many midterm races are being closely watched as both parties battle for control over state government and the Senate. One of these races is the Arizona Senate Race.
WHO ARE THE CANDIDATES?
Mark Kelly is a Democrat and the incumbent senator since 2020 when he was elected in a special election due to the death of John McCain. He was born in New Jersey and has a significant record of serving the nation, like being a Navy combat pilot and NASA astronaut. Additionally, he is highly educated, with a B.S. in marine engineering from U.S. Merchant Marine Academy and a master's in aeronautical engineering from the U.S. Naval Postgraduate School. His wife, Gabby Giffords, is a former Congresswoman, and he has two children. Kelly ran uncontested in the Democratic primary.
Blake Masters is a Republican and is relatively new to politics. Previously, he was a venture capitalist, a co-founder of Judicata, a software company, president of a non-profit supporting science, and a technology investment firm CTO. Masters also authored a New York Times best-selling book about building a start-up with his former teacher and mentor, Peter Thiel. He grew up in Arizona and is also highly educated, attending Stanford's undergraduate and law school. He has been married to his high school sweetheart for ten years, and they have three homeschooled boys together. Masters won the Republican primary with 40.2% of the vote, over Jim Lamon's 28.1% and Marl Brnovich's 17.7%.
WHO SUPPORTS THE CANDIDATES?
Mark Kelly has an amount of money matched by few other campaigns in the USA, with $78,305,407.40 in contributions, and a whopping $81,813,866.37 total, of which he had spent $75,930,846.65 by October 19th, 2022. In addition, organizations like the National Wildlife Federation Action Fund, NARAL Pro-Choice America, and Human Rights Campaign have also announced their support for Kelly, which clearly demonstrates his stance on those issues.
Blake Masters, on the other hand, is doing much worse financially. He only had $10,018,719.38 in contributions as of October 19th, 2022, and $12,126,346.03 in total. He is backed most significantly by Peter Thiel, his former boss, notorious for his right-wing political views, who bankrolled much of his primary. He's also backed by several notable republican figures, including Majorie Taylor Greene, Tucker Carlson, and, most significantly, Donald Trump, whose endorsement was a massive driving force behind Masters winning the primary.
WHY DOES ARIZONA MATTER?
Arizona is a historically Republican state, but according to the New York Times, "independents and voters unaffiliated with either major party matter more in Arizona than in nearly any other battleground state" and "make up about a third of the voting population." Moreover, although they did vote Republican from 1952-2016 (with one exception, Bill Clinton in 1996), Arizona went Democrat for Joe Biden in 2020, and the 49.4% support was the highest for any Democrat since 1964. So, although Arizona may appear to be Republican, it's a hotly contested battleground state, where winning the independent vote is essential to winning the state.
WHAT ARE THE MOST IMPORTANT ISSUES?
Abortion will play a massive part in deciding this election. According to CBS polls, 60% of Arizonians think that abortions should be legal in all/most cases, a fact that aids pro-choice Kelly. On the other hand, it also means almost all pro-life votes will go to Masters. However, controversy has arisen regarding his altering his statement about abortion, among other topics, on his website after winning the primary. He wiped his statements that he wants to "Remove funding for any research that uses embryonic stem cells or aborted fetal remains" as well as "Support the Pain-Capable Unborn Child Protection Act, the Born Alive Abortion Survivors Protection Act, the SAVE Moms and Babies Act, and other pro-life legislation" from his current website, leaving only some more moderate pro-life goals . While Masters toning down his more extreme policies could help him sway more independent and moderate voters, people have started to raise concerns regarding him being a "flip-flopper," and not knowing where he truly stands on issues.
Immigration is another crucial issue at play. Polls show that 27% of Democrats, 57% of independents, and a whopping 88% of Republicans think that the US should be tougher at the border, and 9/10 say that immigration will affect their vote. At the moment, Masters is leading on immigration, with goals such as finishing the wall, tripling the amount of border patrol, and "Always oppose amnesty for illegal aliens, period." Mark Kelly also wants to increase border patrol, explicitly stating that he wants "Arizona [to have] the tools needed for a secure, orderly, and fair process at the border" and that "We need a safe process that treats migrants fairly, but that is also safe for law enforcement." So, while their stances may seem similar, the majority of people who feel strongly about border security are voting with Masters
Another topic up for debate is the economy. With inflation rampant in Arizona, both candidates have promised to help support Arizonians and improve the current situation. Kelly is prioritizing small businesses and "[cutting] taxes for families, all while making sure corporations pay their fair share." Masters blames Kelly for the current issues and attributes it to tax increases and the lockdowns imposed during the pandemic's peak. He wants to "Promote American industry…demand a security review of our supply chains …fight for better, smarter trade deals" and "force Big Tech giants like Google and Amazon to disclose where the products they sell were made."
Gun laws are another crucial issue, especially regarding Mark Kelly. In 2011, his wife, former Congresswomen Gabby Giffords, was the victim of an attempted assassination when she was shot in the head in a parking lot. Since then, Kelly has been a persistent supporter of gun control and regulations, saying, "Our legislation will make our schools and communities safer, save innocent lives, and expand mental health care services while protecting our Second Amendment rights." Masters, on the other hand, wants to expand gun rights and thinks that the violence is "gangs. It's people in Chicago, St. Louis shooting each other. Very often, you know, Black people, frankly." Masters has not issued any sort of apology for this clearly racist statement and continues to spread this notion, along with replacement theory.
TAKEAWAYS:
Mark Kelly is doing a fantastic job of emphasizing how he embodies Arizona values and stressing his bipartisan approach. Biden's popularity took a hit in Arizona, so when Kelly points out times when he spoke out against or voted contrary to Biden, he helps dispel the notion that he's the DNC's puppet, as some people believe, and appeals to more moderate voters. Masters has secured the far-right demographic and is doing a good job using Trump's endorsement, as well as his relative newness to politics, to his advantage. He's struggling a bit with the independent demographic due to his "flip-flopping" and several controversial statements, including antisemitic remarks, praise for the Unabomber, and asserting that the US should not have entered WWII.
Although Mark Kelly is currently leading in most polls, with an average of 47.9% to Master's 46.6%, the race is still too close to call, and Masters is receiving some last-minute funds and endorsements that could make all the difference. Libertarian nominee Marc Victor recently had an average of 5% in polls. On November 1, he dropped out of the race and endorsed Masters.