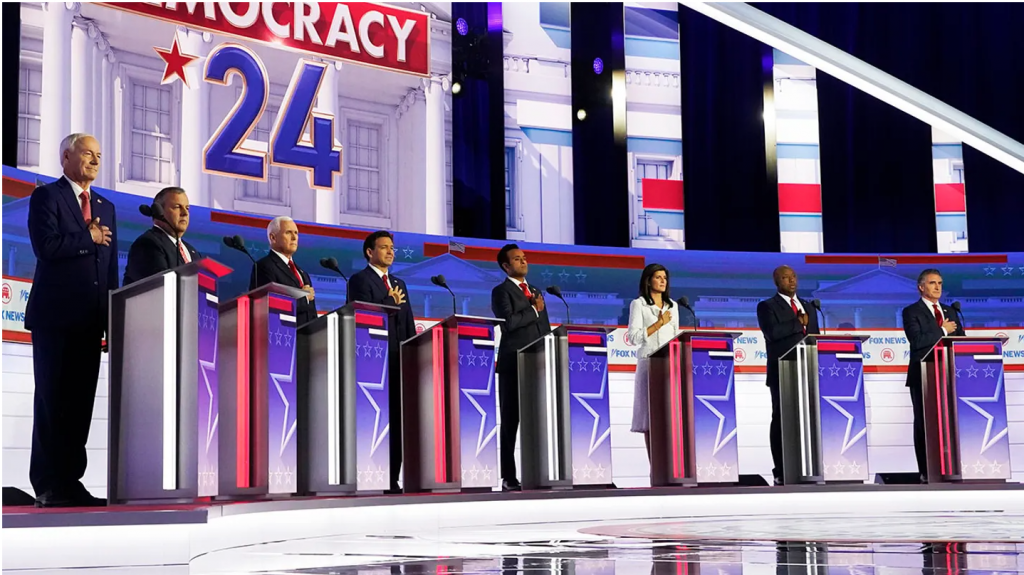 Gillian Herman
On August 23, 2023, eight Republican presidential candidates gathered in Milwaukee to take part in the first GOP debate of the 2024 election cycle. To qualify for the debate, candidates must have been polling at 1% in three different national polls or various early-voting state polls. They also were required to have at least 40,000 donors, with 200 of those donors being from at least 20 different states. Ron Desantis, Vivek Ramaswamy, Nikki Haley, Mike Pence, Tim Scott, Chris Christie, Asa Hutchinson, and Doug Burgam all took part in the debate moderated by Fox News' Martha Mcollum and Brett Baier. To me, there were three real winners of the debate: DeSantis, Ramaswamy, and Haley.
DeSantis did exactly what he had to do, distinguish himself as the clear front-runner of the group. He answered clearly and stayed consistent with what he had been saying throughout his entire campaign, including his "stone cold dead" line. He continually referenced his successful terms as Governor of Florida, and how he would continue that success in the White House. He ended the debate looking like the clear choice to be the Republican nominee.
Ramaswamy was a surprise winner. He came into the debate as a nobody, fought with just about everyone on the stage, and ended the night as a possible nominee. He got into some trouble when talking about foreign affairs, but finished the debate with a relatively good performance. He started off the night strong, and I agreed with many of his points relating to the border and culture, but after about his third yelling match with Chris Christie, I was ready for him to stop talking. But, he did what nobody else on the stage did—he appealed to the MAGA audience.
Haley, the only woman on the stage, was the first one on the stage to call out other Republicans. While talking about the national debt, Haley was the only candidate to point out the Republicans' roles in the debt. She took a somewhat moderate stance on abortion, stating that a federal ban would never be possible with Congress now and that women should never be criminalized for having abortions, but was able to appeal to the pro-life crowd by telling about her own pregnancy experience. Overall, Haley was a surprise winner of the debate to me. She was a more moderate candidate that could appeal to both the MAGA crowd and the rest of the Republican Party.
Out of the rest of the candidates, Chris Christie and Mike Pence were the only others to stand out. Pence took a more attacking stance in this debate, something that was new to him. Chris Christie did what was expected of him: he criticized Trump. He, along with Pence, got into more than a few screaming matches with Ramaswamy. The other candidates seemed to blend into the background, echoing ideas that were already stated.
The elephant in the room was former President Donald Trump, who decided to not take part in the debate. Earlier in the summer, Trump stated he did not need to debate. "It's actually not fair. Why would you let somebody that's at 0 or 1 or 2 or 3 be popping you with questions?" he said. Trump, the frontrunner in the primary, took a small hit in polling after not taking part in the debate but is still in front of the rest of the candidates. Trump dropped 6 points in polling but still holds a large lead over his competitors. Trump is polling at about 50% with his closest competitor being DeSantis, who is polling at just 12%.Republican voters agree with my winners of this GOP debate. A survey shows that 29% of voters believe DeSantis won, 26% believe that Ramaswamy won, and 15% think that Haley won. She was the only other candidate to reach double digits percentage-wise. Overall, this debate allowed Republican voters to see what the GOP field looks like outside of Trump. Each candidate brought in different opinions and policies. As of right now, DeSantis seems like the clear choice out of the debaters, but he will have a hard time trying to catch up to Trump. I think if Republicans want a chance to win the general election, Trump cannot be on the ticket. My ideal ticket, after the first debate, is DeSantis for president and Haley for vice president. The next GOP Debate will be hosted by Fox Business on September 27, 2023, at the Ronald Reagan Presidential Library.